Celebrating Pikes Lane - Diversity
Celebrating Pikes Lane - Diversity
26 January 2017 (by admin)
Here at Pikes Lane, we are incredibly proud to welcome children from all over the world. At the last count, we had 32 different languages spoken as a first language by our parents and children.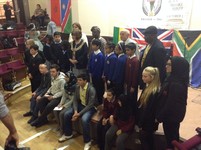 We work hard in ensuring that all of our families feel welcomed and all of our cultures are celebrated and reflected in school life. We have been involved in the celebrations of Black History Month. Nat Binney came into school and taught Year 5 pupils African Drumming. Nat also delivered Oware games to pupils during Holiday Club and some of our pupils went to the Town Hall to be part of the Black History month celebrations. Year 3 are participating again in Connecting Classrooms. This is where we do a 'swap' with another school. This year we are continuing with our links at Tonge Moor Primary School. The classes met with each other on Monday 16th January at Bolton College and we now look forward to visiting their school. Our school council are working with Miss Hilton to create a piece of art work to reflect all of the diverse backgrounds of our families. They have been to the Holocaust Memorial Day at Bolton University that was hosted by the Bolton Interfaith Forum and plan to follow the 'Faith Trail.' This is a series of visits to different places of worship that will let the children learn more about the different faiths and cultures of one another.
Please click link to view a video and more images from this event.