Health and Wellbeing Day – March 2017
Health and Wellbeing Day – March 2017
13 March 2017 (by admin)
We had a fantastic day looking at the '5 ways to wellbeing'.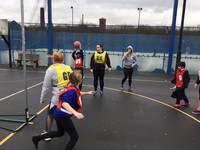 All of the children took part in workshops; learning how to keep themselves happy and healthy. Some of the workshops included:
• A 'Money Skills' Workshop held in Upper Key Stage 2, provided by staff from Bolton Council.
• A First Age course delivered by members of Greater Manchester Fire and Rescue Service.
• Oral Health workshop delivered by the school nurse to children in Key Stage 1.
• Sessions celebrating the faiths and cultures of children across the school.
• A refugee awareness session making children more aware of why some people have to leave their home and travel to new countries.
There was also a staff vs pupils netball match and many of the staff took part in a fitness session before school.