It's Good To Talk Day!
It's Good To Talk Day!
16 February 2018 (by Mr Bradley (Alex))
On Friday 16th of February we hosted our second 'It's Good To Talk' day.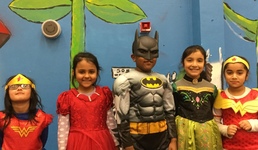 We used superheroes as a starting point to explore our learning and focused on our oral skills. All pupils used the ABC strategy for discussion to: 'Agree, Build On or Challenge' a point of view and some pupils dressed up too! At the end of the day pupils came together for a special assembly.